Profile
Grant Access
Subscribe
Track Account

Welcome to the Black Magic Show
The devil sings a song for you
Paid Account
Created on 2012-02-10 19:18:56 (#1497402), last updated 2016-04-04 (76 weeks ago)
135 comments received, 993 comments posted
26 Journal Entries, 9 Tags, 0 Memories, 83 Icons

About

Mini Bio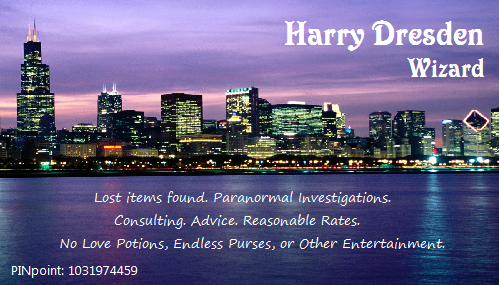 Harry Dresden's life has become much more complicated ever since he stumbled through the Rift. Not that it wasn't annoyingly complex to begin with, being Chicago's only wizard in the phone book, a Regional Commander Warden, and reluctant host to the fallen angel Lasciel's shadow. Seperated from the version of Chicago that he knows, away from the watchful eyes of the White Council for the first time in decades, and isolated from everyone he knows and loves, this new life is both a blessing and a curse. Harry is angry. And Lasciel doesn't like it when her host is angry...
This is a role-playing journal, formerly for
beyondtherift, now

dresdeneffect. The character Harry Dresden is property of Jim Butcher.Mun:
Ael (

martyfan
)
More information on the character can be found at the
Rift Wiki
.

Connect
16th century showtunes
,
advice
,
aliens
,
ancient grimoires
, ancient knowledge,
consulting
,
dragons
,
finding lost items
,
foo dogs
,
ghosts
,
magic
,
mass effect
,
monsters
,
paranormal investigations
,
sorcery
,
spirits
,
talismans
,
the dresden files
,
vampires
,
werewolves
,
wizards

People
[View Entries]

Communities
[View entries]

Member Of (4):

Subscriptions (6):

Administrator Of (0)

Feeds
[View Entries]

Subscriptions (0)

Linking
To link to this user, copy this code:
On Dreamwidth:
Elsewhere: